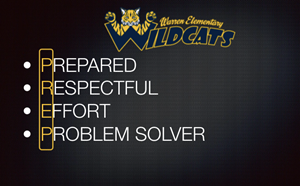 Positive behavior expectations are a priority at Warren.  We want students to feel successful in every setting of their environment.  We will continue to model and instruction what a Wildcat Scholar looks like.
Principal's Message
Dear Warren Families,
Welcome to the 2019-20 school year!  I am proud and honored to begin my first year as the principal at Warren Elementary.  Warren is an amazing school, where the teachers, staff, parents, and community work together to ensure all students reach their full potential.
While high academic expectations and rigorous instruction are a priority, here at Warren, we strongly believe it is important that all of our scholars are equipped with the tools to thrive in all areas of their life.
To prepare all our students for College and Career readiness, we incorporate AVID (Advancement Via Individual Determination) strategies schoolwide.  These strategies are designed to help students with time management and note-taking skills, as well as building relationships with their peers and teachers.
21st-century learning skills are also a priority at Warren.  We believe incorporating technology into our daily lessons allows students to be more creative, collaborative, and allows them more opportunities for critical thinking.
I encourage all parents to be active in their child's learning by taking advantage of any volunteer opportunities, participating in the school's PTA, fundraisers, and other school events.
I look forward to our partnership in providing our students with the best possible education.
Sincerely,
Chris Holland
Principal
Our School
Hello Wildcat students and families!
Here at Warren, we value the effort and accomplishments of each of our nearly 500 students and we are committed to providing each child with an exceptional learning environment. Warren Elementary was named a 2018 California Distinguished School, an elite honor for schools demonstrating high academic gains and student success.  We also were as a 2018 California Honor Roll School for high academic achievement and college readiness. 
Some of the programs that contribute to our success include:
Warren equips students with college readiness skills through its College and Career Mentoring program and a partnership with Cal State Long Beach that brings college students into the classroom to help support teaching and learning.
At Warren, students enjoy extended learning opportunities in coding and robotics, drone designs, AVID strategies, as well as math and reading support.
Warren staff take pride in the school's warming and welcoming culture of inclusion and ensure all students are challenged at appropriate levels.
Warren provides P.I.E. (Partners In Education) training to teach parents about supporting student success. Parents are invited into the classroom to view best practices in action. 
This summer, Warren received new air-conditioning and other campus renovations to provide our students with a top-notch 21st century learning environment.
Thank you for your cooperation in enhancing your child's educational experience and we look forward to a wonderful school year!