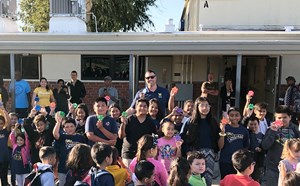 At Earl Warren Elementary, scholars come to school excited and motivated to achieve.  To facilitate a love of learning, Warren teachers create lessons that allow students to problem solve creatively and to demonstrate their mastery of learning object…
Principal's Message
Dear Warren Wildcat Community,
It is with great pride that I welcome you to the 2021/2022 school year at Warren Elementary.  Warren has a proud history of academic excellence.  We were recently awarded as one of America's Best Urban Schools by the National Center for Urban School Transformation.  Warren was one of only sixteen schools across the nation to receive this prestigious award!  Warren students are able to achieve such great academic success due to the hard work and dedication of our incredible staff.
We recognize that students have faced many challenges over the past two years, and we want to remind our students that school is a safe and welcoming place.  To accomplish this, Warren will be looking to re-connect students to our school community by offering a variety of extracurricular activities that they can participate in.  Warren will also have a renewed focus on mental wellness and inclusion as we look to rebound from the pandemic.
I am so happy that we are a part of this community together! Please don't hesitate to contact me with any questions you may have.
Chris Holland, Principal
Our School
Hello Wildcat students and families!
Here at Warren, we value the effort and accomplishments of each of our nearly 500 students and we are committed to providing each child with an exceptional learning environment. Warren Elementary was named a 2018 California Distinguished School, an elite honor for schools demonstrating high academic gains and student success.  We also were as a 2018 California Honor Roll School for high academic achievement and college readiness. 
Some of the programs that contribute to our success include:
Warren equips students with college readiness skills through its College and Career Mentoring program and a partnership with Cal State Long Beach that brings college students into the classroom to help support teaching and learning.
At Warren, students enjoy extended learning opportunities in coding and robotics, drone designs, AVID strategies, as well as math and reading support.
Warren staff take pride in the school's warming and welcoming culture of inclusion and ensure all students are challenged at appropriate levels.
Warren provides P.I.E. (Partners In Education) training to teach parents about supporting student success. Parents are invited into the classroom to view best practices in action. 
This summer, Warren received new air-conditioning and other campus renovations to provide our students with a top-notch 21st century learning environment.
Thank you for your cooperation in enhancing your child's educational experience and we look forward to a wonderful school year!